Welcome to the For-Veterans Website
I believe you came here for a reason, not by accident. You are exactly where you are meant to be, right here, right now. There is a gift here for you today."
As much as it is important to honor those who gave the ultimate sacrifice of their lives, it is also important to honor those who may have returned home, but are still giving and serving by their daily and ongoing battle with the damage and ravages of war that lingers behind.

This time around Memorial Day is a fitting time to express our thanks for the sacrifice our veterans have made for our independence.
---
Read Our Memorial Day Guest Post
Memorial Day 2019
My fellow veterans,
Today, I'm mindful of my time in the art of war.
War is a part of our shared human life, and I think life must be seen as a whole to appreciate its parts. Destructive as war is, it produced a personal value in me, a strength, far greater than my personal cost, once I resolved to find it. This value would necessarily have to be tremendous to justify the price I paid in war. I found it did.
War depends on hatred to exist. However, because this is a love based universe, the thing more powerful than hatred is love. We honor veterans because on behalf of love they face into evil and hatred, sacrificing themselves to affirm the right of others to love. Thereby earning, by the experience, the lessons of both. I found love's lesson gained in war by realizing the effort of will it took to actually enter the nature of love itself after my war was over.
I found to love took a far greater effort of will than to wage war, even with destruction, personal injury, collateral damage, and horror. That was no small thing. This is how I know you as a veteran, are uniquely qualified to enter and express love itself.
Turns out love's a great creative power and annihilates evil on contact in and around us.
From the beginning, humanity has struggled to learn and live love. Progress was made but, as a group, we have failed. Not through lack of seeing love's value, we do, but from the lack of the surrender of personal will it takes to enter love and then the strength of will it takes to express that Love. While that combination of strength, surrender, and commitment can be learned through many of the terrible ordeals of life, none are better suited to do it than war.
Examples of those who have demonstrated that Will to Love is the great heroes of history and myth we honor even more than we honor our heroes of war who have stood against hatred.
After I was a marine in Vietnam, I worked to experience and express love, not fight hate. It was doubly difficult because to love I had to first love myself past what I had become in war. As I worked to overcome my personal stuff to enter the impersonal power of Love, I became aware of the tremendous strength of will in me, that I had earned in action and thought lost was a secret weapon waiting to be summoned…
   Keep reading + comment
 ==> Memorial Day James McTague article
---
A Prayer for Veterans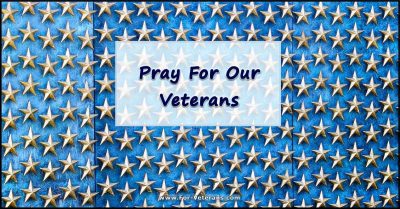 On this day those who served their country as warriors are honored and celebrated.
To serve and defend our country, we the people require our warriors take a journey into hell, for as General Sherman observed in the United States Civil War, "War is Hell."
To thank them for their service we offer up a prayer of healing.
I ask we all pray for healing them from the hurts that their service has created, physically, emotionally and mentally. We pray and encourage them to receive the grace and healing power of self-forgiveness and compassion as we honor their self-forgetfulness and service.
May they be held within the healing power of Love as they are granted the grace of putting it all behind them with the healing power of letting the past be in the past.
We pray for their healing from the hurts our failures inflicted as we as a society and a world called upon their sacrifice to wage war instead of keeping peace.
Veterans Day is a reminder that Peace is the goal as the date 11-11 celebrates the end of the United States First World War, known as the war to end all wars…
Keep reading + comment
==> Veterans Day Prayer by Genevieve Gerard
---
Read Our Veterans Day Guest Post
A Veterans Day message
– For Veterans who are experiencing challenges in their life because of the experiences of war.
Hi, I am Dan McTague, and I have included a short new meditation on this site for this Veterans Day to help center you in the power to reclaim your human nature after traumatic experiences.  As a veteran, I understand the condition. As a spiritual teacher, I know how to recover the territory of ordinary human life that is surrendered in the process of fighting in a war.
Remember this, the soul is untouched by whatever befalls our personality life, up to and including death itself. Our inner power is eternal, limitless and is the essence of love – no matter how the outer material circumstances may indicate. This accessible truth, residing within you, is your key to the restoration of a damaged life…
   Keep reading + comment
 ==> A Veterans Day message and meditation by Dan McTague
---
Listen To A Guided Meditation
James Daniel McTague and I wanted to give you something to listen to this Memorial Day, so we jumped on the phone and created a free guided meditation for you called "Experience Centering the Warrior Within."
Listen to it below.